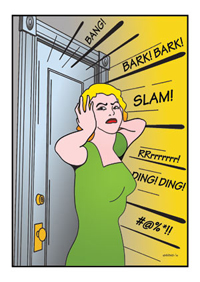 NEIGHBOR NOISE — Heard Enough?
Entry Doors are often an issue for intruding noise, privacy and barking dogs on either side of your doorway. Irritants that are transferred by air like odors, smoke and other potentially offensive things are common in apartment buildings. City Soundproofing can substantially reduce all of these and more with an effective installation of Perimeter Seals and an Automatic Door Bottom at an affordable price.
Learn more about Neighbor Noise Control»
Email us to find a solution to your noise problem, or for a list of references in the tri-state area.
CITY SOUNDPROOFING IN THE NEWS
City Soundproofing's Mason Wyatt was recently featured in the New York Times' article, In Urban War for Peace and Quiet, Soundproofers Are Busier Than Ever.
Customer base includes:
Flood Zone Studios
Mountain Wave Studios
Bump Your Head Studios
MCI
NIH
ABC News
FBI
CIA
NASA
Naval Research Lab
Rubbermaid
Mitsubishi
B.O.P.
Ferguson Plumbing
Our specialists are available for consultation, design, and materials specification for noise control in architectural, residential, commercial and industrial applications.
When you call City Soundproofing for a solution, one of our specialists will speak to you in language that you can understand. We'll explain why you're experiencing the noise problems you are, and before you hang up, you'll have a better understanding of what's going on and what it's going to take to significantly reduce those problems.
Today you will find many noise control consultants, who evaluate your problem, give you a twenty page print out that you can't understand, take your check, and tell you, " We don't do any actual work, you need to go find a soundproofing company for that, somebody qualified".
City Soundproofing is qualified, we provide "one stop shopping". We evaluate the issues with an on site consultation, recommend, supply, and install the products needed to fix your problem.
Welcome to City Soundproofing!
Mason Wyatt

With 40 years construction experience and 10 years in the recording industry, including providing acoustical solutions for all types of noise control applications since 1996, Mason Wyatt has a unique perspective on noise control.

Teleconferencing, distance learning, broadcasting and recording environments have been the focus during the currently developing era of e-communications.

Mason has participated in the development of many teleconferencing centers, distance classrooms, conference rooms, home theaters, recording studios, rehearsal spaces, auditoriums, several large performing arts venues, clubs and restaurants. He has assisted in building or improving many acoustically sensitive rooms, studios, and broadcasting spaces, as well as facilities at numerous universities and local, state and federal sites.