City Soundproofing - Specialists in soundproofing and noise control. Supplying sound proofing products, noise control consultation, and installation for noise management, noise abatement, sound attenuation, and sound proof environments. Acoustics and acoustical specifications for home theater, recording and broadcast studios, auditoriums and residential uses. Noise Control product line includes: sound absorbers, diffusers, reflectors, isolation and vibration control, sound barriers, acoustical foam, door seals, acoustical caulk, neoprene pads, damping compound, melamine foam, and fiberglass batt, acoustic wall and ceiling tiles, fabric and treatments. Noise control, soundproofing, sound proofing, sound proof, acoustical, acoustics, sound attenuation, noise control, noise abatement


Combining personal service, acoustics know-how, and the most advanced technology to meet your noise control needs.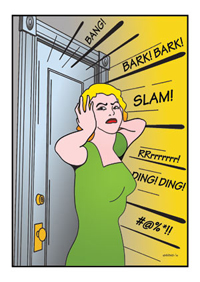 NEIGHBOR NOISE — Heard Enough?
Entry Doors are often an issue for intruding noise, privacy and barking dogs on either side of your doorway. Irritants that are transferred by air like odors, smoke and other potentially offensive things are common in apartment buildings. City Soundproofing can substantially reduce all of these and more with an effective installation of Perimeter Seals and an Automatic Door Bottom at an affordable price.
Learn more about Neighbor Noise Control»
Email us to find a solution to your noise problem, or for a list of references in the tri-state area.
CITY SOUNDPROOFING IN THE NEWS
City Soundproofing's Mason Wyatt was recently featured in the New York Times' article, In Urban War for Peace and Quiet, Soundproofers Are Busier Than Ever.

Noise Control, Acoustical Consultation and Design, Acoustical Materials and Acoustical Material Specification for :
Supplying Acoustic Products by QWYATT, Big Picture Ideas®, Owens Corning®, Acoustic Systems, Pemko, and Acoustics First®
Don't miss the latest idea in QWYATT technology -Silent PicturesTM Acoustic Art Wall Panels